This snack is extremely fast, easy and CHEAP! You can use it for sandwiches, snacks or as a dinner bread. Very versatile as you can use whatever is in your spice cabinet or left over in your fridge! I used the following recipe and added some ground flax seeds (for a healthy omega 3,6, and 9 boost!) I had to add extra water as well due to the seeds. We topped ours with garlic powder, dried italian herbs, freshly ground pepper and parmasean cheese!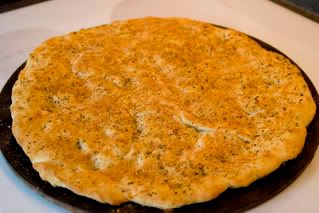 INGREDIENTS:
1 teaspoon white sugar
1 package active dry yeast OR 2 1/4 tsp. if using from bulk
2/3 cup warm water
2 cups all-purpose flour
2 tablespoons olive oil
1/4 teaspoon salt
DIRECTIONS
In a small bowl, dissolve sugar and yeast in warm water. Let stand until creamy, about 10 minutes.
In a large bowl, combine the yeast mixture with flour; stir well to combine. When the dough has pulled together, turn it out onto a lightly floured surface and knead for about 3-4 minutes, adding flour as necessary to keep dough from sticking.
Lightly oil a large bowl, place the dough in the bowl and turn to coat with oil. Cover with a damp cloth and let rise in a warm place until doubled in volume, about 45 minutes.
Preheat oven to 475 degrees F.
Turn dough out onto a baking stone/sheet dusted with cornmeal or sprayed lightly with oil. Push dough out using your fingertips to the edges of your baking surface. Brush lightly with olive oil and top with cheese, herbs, and seasonings.
Bake focaccia in preheated oven for 10 to 20 minutes, depending on desired crispness. If you like it moist and fluffy, then you'll have to wait just about 10 minutes. If you like it crunchier and darker in the outside, you may have to wait 20 minutes.