Today little Danny and I got our hands dirty! The weather has been absolutely beautiful so we transplanted the herb seedlings into our big half barrel that we are using for our kitchen herb garden. So far we planted lemon basil, sweet basil, dill, oregano, sage and garlic chives. Doug purchased a cilantro and rosemary plant the other day, so we added those too (we go through a LOT of cilantro and rosemary!)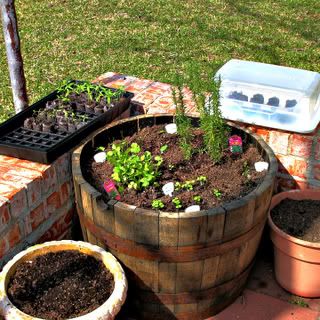 In the background of the picture, you can see my tomato seedlings growing as well as my "frugal greenhouse." This great idea came from this website:
http://www.gardengrapevine.com/GreenhouseMini.html
My peppers are starting in there. I have a carnival mix (yellow, orange, red and PURPLE bells!), standard green bells, jalapeno and banana peppers. I'm still waiting for my shipment of hot Thai chili seeds to arrive!
Danny boy loves gardening! He was completely entertained with a garden trowell and a pot full of dirt for HOURS! When he was done playing, I showed him how to poke holes in the dirt with his fingers and put in a sunflower seed. His favorite part of the whole process was watering the seeds and making "nasty mud."
There's my little Farmer Dan!