So many people emailed me about the bread recipe that I thought I'd post another one of our favorites!
Pita Bread
3 cups flour
1 1/2 teaspoons salt
1 Tablespoon sugar or honey
1 packet instant yeast (or, if from bulk, 2 teaspoons yeast)
1 1/4 to 1 1/2 cups water, roughly at room temperature
2 tablespoons olive oil, vegetable oil, butter, or shortening
If you are using active dry yeast, follow the instructions on the packet to activate it. Otherwise, mix the yeast in with the flour, salt, and sugar. Add the olive oil and 1 1/4 cup water and stir together with a wooden spoon. All of the ingredients should form a ball. If some of the flour will not stick to the ball, add more water.
Once all of the ingredients form a ball, place the ball on a work surface and knead the dough for approximately 10 minutes. If you are using an electric mixer, mix it at low speed for 10 minutes.
When you are done kneading the dough, place it in a bowl that has been lightly coated with oil. Form a ball out of the dough and place it into the bowl, rolling the ball of dough around in the bowl so that it has a light coat of oil on all sides. Cover the bowl with plastic wrap or a damp kitchen towel and set aside to rise until it has doubled in size, approximately 90 minutes.
When it has doubled in size, punch the dough down to release some of the trapped gases and divide it into 8 pieces (I do this with a pizza cutter!) Roll each piece into a ball, cover the balls with a damp kitchen towel or plastic wrap, and let them rest for 20 minutes. This step allows the dough to relax so that it'll be easier to shape.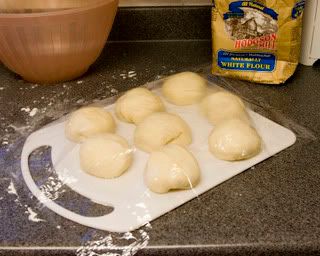 While the dough is resting, preheat the oven to 400 degrees. If you have a baking stone, put it in the oven to preheat as well. If you do not have a baking stone, turn a cookie sheet upside down and place it on the middle rack of the oven while you are preheating the oven. This will be the surface on which you bake your pitas.
(Just a note here: You can buy unglazed terracotta floor tiles at Home Depot for under two bucks. They work just as well if not better than high priced baking stones AND you can just leave them in your oven all the time...we do!)
After the dough has relaxed for 20 minutes, spread a light coating of flour on a work surface and place one of the balls of dough there. Sprinkle a little bit of flour on top of the dough and use a rolling pin. You should be able to roll it out to between 1/8 and 1/4 inch thick. If the dough does not stretch sufficiently you can cover it with the damp towel and let it rest 5 to 10 minutes before trying again.
Open the oven and place as many pitas as you can fit on the hot baking surface. They should be baked through and puffy after 3 minutes.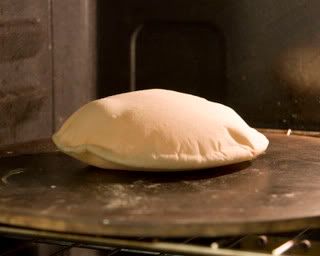 That's it. They should keep pretty well, but we almost always eat them as soon as they come out of the oven!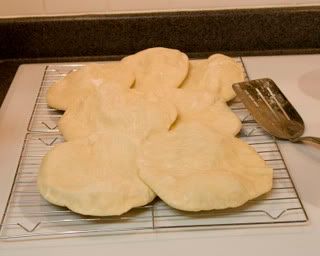 Good with homemade hummus:
Place the following ingredients in food processor and grind until smooth:
2 cups canned garbanzo beans, drained
1/3 cup tahini (sesame paste-on the Asian foods aisle!)
1/4 cup lemon juice
1 teaspoon salt
2 cloves garlic, halved
Some variations are to add artichoke hearts, jalapenos, black olives, or roasted red peppers!