We took a little homeschooling "field trip" last week to see a replica of the Nina, Christopher Columbus' 1492 ship, which was docked in Matagorda harbor. It was an incredible little ship...and yes, I do mean little! It was approximately the length of five cars parked end to end. It's amazing that a ship that size could cross the Atlantic!
True to history, the replica ship was built entirely by hand — without using power tools — in Bahia, Brazil, by the Columbus Foundation based in the British Virgin Islands. The Nina's seven-person crew works, sleeps and eats on the ship and has logged thousands of miles around North and Central America.
It was a great hands on history lesson for the kids!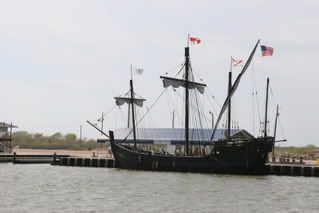 We then went for a picnic lunch at the beach. The weather was wonderful, but the water was ice cold! There was lots of driftwood and seaweed on the beach from the recent storms, but that didn't stop the kids from having a great time!