We had a lovely dinner tonight! Doug grilled some chicken, I made a corn salad, hummus and pita chips. I picked some flowers from the garden and set the picnic table outside. The evenings are getting a little cooler now so sitting outside to dine was really pretty nice!
God provided the entertainment....the sky show was spectacular!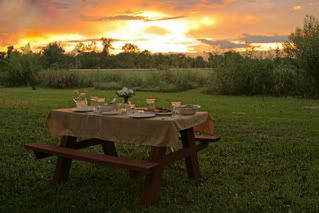 Here's a close up of my centerpiece. Can you believe I can still cut roses in October? The small flowers are from my carrots! I left quite a few in the ground for fall harvest and they flowered, they almost look like Queen Anne's Lace.